Posted June 11, 2018 at 12:30 pm
Hey, check out the all-new atomic-robo.com! Now with dynamic fancy gizmos that optimize your viewing pleasure for computers, tablets, and mobile. Fun! You can switch between Atomic Robo and Real Science Adventures using the banner that's to the right of the comic on a computer or a little ways under it on tablets/mobile.
You probably haven't checked out an RSA story in a while, so dive back into The Billion Dollar Plot to read about Tesla and his crew of adventure scientists unraveling a conspiracy to overthrow America, or jump into Raid on Marauder Island to read about more air piracy than you can shake a flight stick at and also it's my mom's favorite story.
But don't forget to check out our brand new addition to the RSA archives, The Nicodemus Job! We had hoped to debut the new site and series earlier — of course it's not our fault for asking for an endless series of tweaks and then tweaks back to what they were, don't be ridiculous — so, we uploaded the first cover and first five pages to get back up to speed!
And that ain't all!
To celebrate the new site and the new series we're throwing a big ol' Doctor Dinosaur summer sale!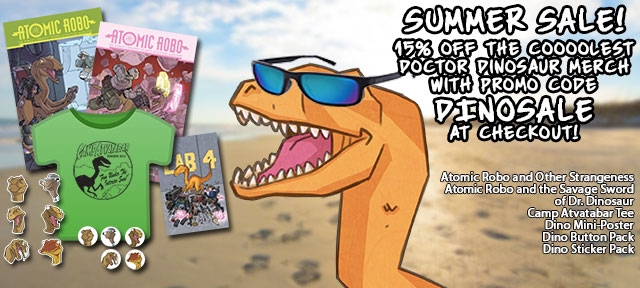 And this weekend Mr. Scott Wegener will be at HeroesCon June 15th through the 17th! You can find him in the Artists Alley at Table AA-1204 with tons of Robo merch like The Plush Head of a Robot Named Robo, our hardcovers, the official Robo RPG, and more!
And finally please head to your favorite online or local comic shop and pick up your copy of the Atomic Robo and the Spectre of Tomorrow trade paperback from IDW Productions. It goes on sale this Wednesday.